Buster aka hub
Hub was a very lucky cat although at first it didn't seem so. Deb had recently moved to New York City. She was walking down Broadway one day in August when she saw a young man run into the intersection, waving frantically for oncoming traffic to stop. A big lumbering bus was the lead vehicle. It stopped to avoid running over the man. Only then did Deb notice a small black kitten in the middle of the road. Strangely, once the traffic halted the man walked away. Obviously, he considered his responsibilities at an end.Deb ran into the street and scooped up the kitten with both hands. The kitten was badly injured. It had a deep gash down to the bone on its front leg and one eye was completely shut. Deb relates what happened next.
"In those first moments, I had no idea what to do with this broken kitten. I sat on the bench in the median there and pondered my options. The light had turned red at that point and a lady stopped in her car, opened her window and yelled something like, 'good for you guys for saving that kitty!' I was like…yes…and now what do I do with it? She suggested I call the police but I thought of calling the vet. I had only been living in the city for a couple weeks at that point, but I had lived here before on 68th street and remembered there was a vet on 67th. I looked up the number and called LSVH."
"Emily (LSVH receptionist) answered and said I could bring the kitten in but she couldn't make any promises for what they could do. I put the kitten in my canvas shopping bag. It had a plastic bottom so he could lie on a surface and hopefully not break any further! Emily took him right away and came back out to tell me they would take care of him. I immediately started to tear up. It was such a relief to me. To be honest, I thought they were going to put him to sleep, seeing how he was in bad shape and not being sure who would pay for such care." That's when Artemis got a call.
Would we pay for medical care for a stray kitten about two months old? He was covered with abrasions and lacerations. The most serious was a deep gash on his front leg. It would probably require surgery. As for possibly internal injuries, only time would tell. This kitten had gotten a very rough start in life. Artemis agreed to help. The kitten was christened "Hub – Hit By Bus." For the first week, Hub slept around the clock. His tiny body had been through so much. As time went on, his wounds healed better than anyone could have hoped. No surgery was necessary.
Hub's fur gradually covered his wounds. His loving nature became clear. He was a purring machine. In a remarkably short time, a young family adopted this broken kitty who is now whole. They re-named him Buster.
Buster enjoys playing with new sister Domino and cuddling in laps. However, don't get between Buster and his food. He's been known to launch himself midair and shimmy up human legs to get to his food. They refer to him as " The Tasmanian Devil of Dinner." As time goes on, Buster will begin to realize not every meal is his last. Miracles do happen and they happened to him.
Delilah
Delilah came to Artemis after her owner of 14 years decided to give her up for a kitten. She was almost dropped off at a local shelter, where her chances of adoption would have been slim, but a kind soul convinced the owner to contact Artemis instead.
Quickly capturing the heart of one of our volunteers, Rebecca, Delilah didn't last long at the clinic and settled in nicely to her new home. Sadly, it wasn't long before it became apparent that something was wrong. Delilah stayed up night after night yowling, and it became increasingly prevalent during the day. After seeing Dr. Tan at LSVH, it was determined that Delilah had never been spayed and she was also suffering from a uterus infection. Despite her age, the decision was made to go through with spaying. A lump was removed from her stomach during the surgery and sent off to be biopsied. It was a heartbreaking day when the test results came back positive for mammary cancer.
Dr. Tan discussed the options of more surgery and chemo, but added that at her age it would put an incredible amount of stress on Delilah. After caring for while she recovered from being spayed, Rebecca decided not to put Delilah through more surgery, but to give her the best rest of her life possible. It's interesting how we unexpectedly find bossom friends throughout the course of life, whether human or animal, usually when we least expect it. Delilah became one of those friends to Rebecca, following her everywhere around the apartment and nestling up to her every night, resting her head on Rebecca's chest. Even after her surgery, she would inch her head as close to Rebecca's as possible, with the cumbersome cone and all. Rebecca would often bake organic chicken, which Delilah would wait patiently to indulge in.
Anytime Rebecca had friends over Delilah would give them the most delightful reception, charming them with her bright green eyes that would fix themselves on her guests as she welcomed any attention. Two of Rebecca's friends who had previously never owned a cat decided to adopt a kitty because of Delilah. Even Dr. Tan was surprised by how long and hard Delilah fought. She lived nearly two years without any treatment for her cancer and won over the hearts of many during that time.
Emilio
Emilio came in weighing less than a pound. One eye protruded alarmingly from the socket, but he quickly stole everyone's heart with his black soul patch and tail, and his lively spirit. When I saw little Emilio, I knew he needed a veterinary ophthalmologist. I took him by cab to a Brooklyn clinic.
He had a severe upper respiratory infection that had gone to his eyes. The vet prescribed heavy-duty antibiotics. She also gave me a good piece of advice: "Medicine is not the only thing this kitten needs. To live a good life, he needs a playmate to wrestle and play with." Emilio went back to Lincoln Square Vet Hospital, wearing a ridiculously large satellite dish shielding his ridiculously protuberant eyeball. His eye was really ghoulish. I advised volunteers not to look at that eye and to concentrate on the other.
None of our other Artemis cats wanted anything to do with this monstrosity. Enter a kitten rescued from Riverside Park. We named her Solara. Her lip had been bitten off by we knew not what - a rat? Solara got plastic surgery the same day she came in. For whatever reason, Emilio and Solara hit it off. They played and frolicked all over the clinic.
It wasn't long before a couple came in wanting a kitten and went home with two.Emilio eventually lost his eye to the infection but it hasn't slowed him down a whit. Emilio(now Mick) and Solara( now Bella) live happily in their forever home.

~ Dorian Rence
Phoebe
Phoebe used to live outside on the harsh streets of New York City with a bunch of other kitties. The cats were fed by a kind soul who, in the end was the woman who rescued her. Unfortunately Phoebe's sister was hit and killed by a car, and the rest of the cats were poisoned by someone - whether it was intentional or not is unclear. It was a gruesome scene, but the woman who fed them was able to rescue our beautiful Phoebe before becoming the next victim.
She brought her into her apartment, against building regulations, to discover that Phoebe was pregnant. She had a litter of several kittens which she nursed, and her caretaker found homes for them once they were old enough. Still Phoebe was without a home. The woman wanted to keep her but ran the risk of being evicted if the landlord found out. She was finally caught and told to get rid of the cat.
Not knowing where else to take her, she turned to the Humane Society. Fortunately before Phoebe was taken there someone suggested bringing her to Artemis, where she wouldn't run the risk of being euthanized if she wasn't adopted out quickly. One of the Artemis volunteers fell fast in love with Phoebe and decided to adopt her. She now lives in a comfortable apartment on the upper west side with two other mates that were also adopted from Artemis.
Check back soon for more Feline Features!
A collection of Artemis' favorite rescue stories from over the years.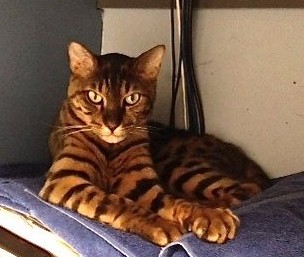 Jax
Jax was brought into the clinic in Aug 2013 by one of Artemis's adoptive parents, Danielle, after finding him on the side of the street during her morning run. She had decided to change her route that mourning and it must have been fate because she saw Jax crouched down. As she approached she thought it strange that he didn't dash out of the way like most cats would, but when she neared she realized that something was seriously wrong.
He was unable to move. His head hung low and he could barely stand or move his back legs. As she stood there watching he attempted in vain to drag himself along by his front paws. He was so severely emaciated that she thought he was a kitten because he looked so small. Without another thought, Danielle ran home and grabbed her carrier, while calling Artemis to see if they had room to take in another kitty. After getting the go ahead, she dropped him off at the clinic on her way to work and the staff at Lincoln Square got to work on him immediately.
His liver values were very bad and the doctor suggested putting him down peacefully to eliminate his suffering. Artemis Founder, Dorian, decided to give him a chance though and asked them to do everything they could to save his life. That first night was touch and go, and one of the LSVH nurses said he would not have lasted another night out on the street in that condition.
Amazingly Jax pulled through, but it was an excruciatingly slow process. Nobody was certain he was going to make it for at least the first week but every day looked more promising. It was a couple months before he gained enough weight to look like the grown cat he in fact is, but it didn't take long for his striking Bengal features to become apparent. Artemis had a waitlist of people wanting to adopt him before he was even well enough to leave, but the day finally came when he went to his forever loving home where he won't have to worry about being left to fend for himself again.